WineCode Sicilia

From the collaboration between the Regional Institute of Wine and Oil (Sicily) and WineCode® comes "WineCode Sicilia", the first wine tourism guide for tablets and smartphones.
Our application is available at the App Store and the Google Play. "WineCode Sicilia" guides tourists and wine lovers in their journey to discover real and virtual wineries as well as territories of Sicily.
It offers many features available on tablets such as iPad: a very detailed map of the area shows the location of the cellars in order from closest to tourist's actual geo-position, simple tap on the location of interest will reveal the name of the winery and other related information. Menu of each winery (200 of them listed at the moment) contains a range information: availability of services, meals and wine tastings, detailed description of wines produced in the territory and in the production area. Often the descriptions are accompanied by video of producers showing their wines.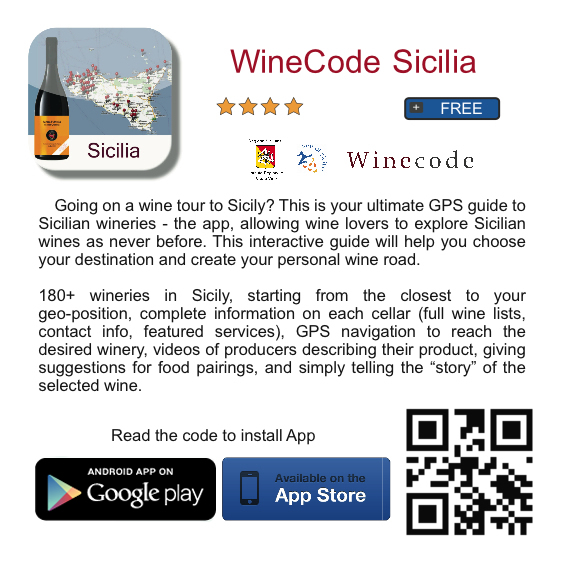 Tourists can follow Wine Roads of Sicily suggested by the app or prepare their own way of selecting wineries they prefer to visit.
The application integrates seamlessly with other applications on the tablet: it can automatically activate the navigation software to get to the winery that receives GPS coordinates accurately and verified directly by the "WineCode Sicilia". A truly practical tool for consultation and guidance during the trip, this app is multilingual, able to bring tourists of any nationality to the doors of Sicilian wineries.
Data of the wineries is continuously updated, all Sicilian wineries not yet present can be included into this guide. The app will continue to improve as each digital service builds on the recommendations of the Sicilian wine producers and the app users.