What is WineCode®?

WineCode® is a new mobile coding system dedicated to the world of wine. With WineCode®, origin and characteristics of each wine bottle can be accessible anywhere and anytime through mobile phones. WineCode® redefines the concept of mobile communications.
How it works

WineCode® is very easy to use. All you need is a cellphone with a camera. Using free software (download here), simply scan the QR code on the bottle to be able to access the WineCode® system... and discover new world of wine at your fingertips!
A WineCode® is assigned to every wine cellar, also one for every wine that is in the system. The assigned codes become the property of the wine cellar and they will never be reassigned.
The mobile website of the wine cellar contains all the information regarding the cellar, wine catalogues, Google Maps and navigation services, contacting sales department, video promotions, event notifications, etc. The content of the website is suitable to various models of cellphones.
The computer science platform of our server automatically recognizes the model of the connected cellphone and optimizes the digital content according to the characteristics of the device. The platform identifies also the language selected on the phone and transmits the content in the language of the customer (if available). WineCode® is in a position to provide services in various western languages and some eastern ones, like Russian, Chinese and Japanese.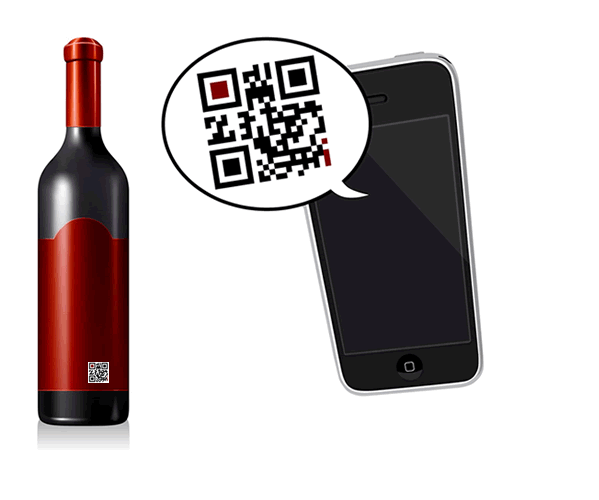 Features

Using WineCode® consumer can watch video of the wine cellar about its history and wine production techniques.
Mobile website for each wine offers various communication and marketing services. For every wine there is a detailed description including types of grapes used, the techniques of winemaking, tips on storing and aging, the organoleptic characteristics, analytical data and gastronomic couplings. Also maps with geographic localization of the vineyard.
The WineCode® Team has immense experience in the production of "video-degustation" of wines. The consumer can watch videos of professional Italian sommeliers tasting and evaluating each wine directly on the cellphone.
Consumers can contact the winemaker to place orders. An automatic SMS messaging system allows the consumer to send to a message to the WineCode® service center that will forward it to the closest sales department of the wine cellar.